I suppose every sincere Christian believer has asked themselves this question at some point, if not at many points in their spiritual journey: How can I love God more? I have thought about it often, especially in low moments of spiritual failure, weakness or defeat. My soul cries out, "Lord help me love you more!"
Jesus actually addressed this question during His ministry time on earth. He gave us insight into one thing that is critical if our love for and devotion to God is going to grow deeper.
The answer is found in a story Jesus told after a specific and significant event in His life. Jesus was invited to dinner at the home of one of the Jewish religious leaders named Simon. This man, along with most of his spiritual colleagues, was quite self-righteous. He had a lot of knowledge about the Old Testament scriptures, was quite conscientious in keeping the law of God, and felt pretty good about his personal spiritual condition.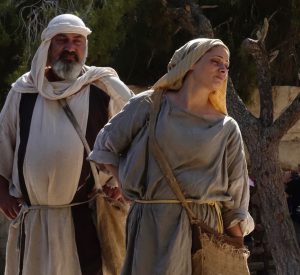 Then something unusual and unsettling happened. In the midst of this special meal, an uninvited lady showed up. This was no ordinary lady. She had a "reputation." The gospel writer Luke described her as "a certain immoral woman."
Without fanfare or spoken words, this woman broke open a very expensive bottle of perfume, knelt behind Jesus, at His feet. Suddenly the sound of her sobs filled the room. Her profuse tears fell on Jesus' feet. She used her tears to wash His feet, wiping away the dirt and dust from them with her hair. She then proceeded to pour her precious perfume on the clean feet of Jesus.
As he watched all this happening, Simon, the "super spiritual" religious leader, began having some very ugly thoughts about Jesus. His judgmental, critical spirit generated some serious questions about Jesus' character.
Jesus, who knows our thoughts, knew what Simon was thinking. In response, Jesus told this story that actually answers our original question:
Luke 7:41-48 (TLB)  Then Jesus told him this story: "A man loaned money to two people – $5,000 to one and $500 to the other. But neither of them could pay him back, so he kindly forgave them both, letting them keep the money! Which do you suppose loved him most after that?" "I suppose the one who had owed him the most," Simon answered. "Correct," Jesus agreed. Then he turned to the woman and said to Simon, "Look! See this woman kneeling here! When I entered your home, you didn't bother to offer me water to wash the dust from my feet, but she has washed them with her tears and wiped them with her hair. You refused me the customary kiss of greeting, but she has kissed my feet again and again from the time I first came in. You neglected the usual courtesy of olive oil to anoint my head, but she has covered my feet with rare perfume. Therefore her sins — and they are many — are forgiven, for she loved me much; but one who is forgiven little, shows little love." And he said to her, "Your sins are forgiven."
Here we find our answer, and a very important lesson in our spiritual journey. The depth of our love for Jesus is determined, in large degree, by the awareness of our own deep sinfulness and need for forgiveness. This lady, although impure and unclean, humbly came to Jesus with repentance and worship and discovered the kind of relationship with God that religion can never get you. In a matter of a few moments in Jesus' presence, with a broken, contrite heart, this woman found inner peace and fell in love with God in a way Simon the Pharisee had never known! Simon knew the Law. This lady found and experienced God's grace!
The more you learn about the incredible, indescribable, amazing grace of God in Jesus, the more you'll love Him!
"Amazing grace, how sweet the sound, that saved a wretch like me. I once was lost, but now I'm found; was blind but now I see." — John Newton
Pastor Dale
Tweet