An opportunity is a favorable moment in time when good things can happen. It's a window of possibility and potential that opens to us. It comes and it goes, and depending on how we respond to it, our life destiny can be determined and the future of others can be affected.
God is an opportunity-giving God. Daily, God gives us moments pregnant with possibility and potential. It might be an intersecting point with a particular person we haven't seen in a while, a conversation with colleagues, or a professional door that opens to us unexpectedly. It might be an opportunity to share our faith, or to do something kind and helpful for another person. It might be a moment to speak a loving and encouraging word to someone who is hurting and hopeless. It might be a word of instruction or wisdom spoken to us that will shape our character and increase our usefulness to God and His Kingdom.
Opportunities are introduced into our lives, and they linger briefly, waiting for our response. As surely as they arrive, they leave. Seeing them and seizing them is our challenge.
Here's what the Bible says about this:
So be careful how you live. Don't live like fools, but like those who are wise. Make the most of every opportunity in these evil days. Don't act thoughtlessly, but understand what the Lord wants you to do. — Ephesians 5:15-17 (NLT)
To make the most of God-sent opportunities, we must first recognize them when they show up. Too often we're so preoccupied with the business and busyness of life that we don't see them when they come our way. Because of our blindness, great opportunities by-pass us. That opportune moment when a gracious act or word from us would mean so much to a struggling soul, or that window God gives us to tell someone about His love will be missed when we're caught up in our own world.
Not only do we need to see God-sent opportunities, we must also seize them. If we see and don't seize, the end result is the same. The moment is missed.
Seizing God-sent opportunities involves faith and action. We have to over-ride our inner desire for comfort and complacency. We must suppress our drive for the status quo. We must reach out, step out, speak out and act out our faith and love in the opportune moments God gives us. What we do in these moments matters. See them and seize them!
Ask God to help you see the opportunities He's sending your way. When you see them, seize them!
Pastor Dale
BTW, here are two incredible opportunities you need to know about: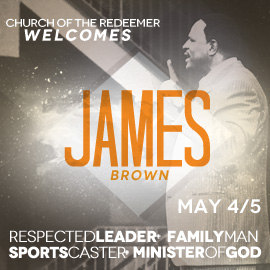 This weekend at Church of the Redeemer, come and hear a great message from James Brown. James is the anchor sportscaster for the NFL Today on CBS and Inside the NFL on Showtime. He has a strong faith and powerful lessons to share. For campus information and service times check out our website.
If you're a pastor or church staff member, don't miss our upcoming United Pastors Network Gathering, May 20-22 here at our church. For all the information visit the UPN website and register today. It's going to be an amazing time!
Tweet