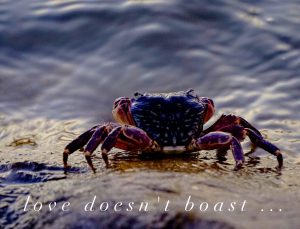 Have you ever met a braggart? They're not pleasant to be around. They're highly impressed with themselves, and usually oblivious to the achievements, great qualities and gifts of others. They rarely, if ever, see and care about the needs of people around them. We call them self-centered, self-righteous, narcissistic, egomaniacal, and a variety of other names. In their way of thinking, the world revolves around them. An air of superiority exudes from them.
Jesus described a man like this in one of His stories:
Luke 18:9-15 (NLT) Then Jesus told this story to some who had great confidence in their own righteousness and scorned everyone else: "Two men went to the Temple to pray. One was a Pharisee, and the other was a despised tax collector. The Pharisee stood by himself and prayed this prayer: 'I thank you, God, that I am not a sinner like everyone else. For I don't cheat, I don't sin, and I don't commit adultery. I'm certainly not like that tax collector! I fast twice a week, and I give you a tenth of my income.' But the tax collector stood at a distance and dared not even lift his eyes to heaven as he prayed. Instead, he beat his chest in sorrow, saying, 'O God, be merciful to me, for I am a sinner.' I tell you, this sinner, not the Pharisee, returned home justified before God. For those who exalt themselves will be humbled, and those who humble themselves will be exalted."
The difference between these two men couldn't be more drastic. One haughty and the other humble. One righteous in his own eyes, the other deeply aware of his sinfulness and desperate need for God's mercy. The Pharisee with an attitude of superiority, and the sinner with an awareness of his personal depravity and dysfunction.
Although the Pharisee had a lot of "religion," it's clear that He didn't really know God. He performed religious duties, but he was clueless about his true inner condition. He was broken but didn't know it. His boasting revealed an unloving, selfish, prideful heart.
The Bible says "Love isn't boastful …" (1 Corinthians 13:4). God's Word Translation reads, "Love … doesn't sing its own praises … "
You can't love other people if you're busy promoting and pampering yourself. You can't care for others if most of your time is spent polishing and displaying your own halo! You can't love others when you're convinced of your personal superiority, looking down on people around you.
Real love doesn't boast!
Tweet