Life is hard. The problems of life often beat us down, wear us out, bruise and break us on the inside. Without exception, we all have to deal with difficult moments and events. As the Bible says, "Each heart knows its own bitterness … " (Proverbs 14:10).
When life hits us, it can leave scars on our soul. The blows of life can warp our thinking, cripple our confidence, sour our outlook and soil our attitudes. Pain from the past has a way of haunting our present, and stealing our future.
The problem is, we're usually not aware of the ways our inner wounds are affecting us. We live under the influence of emotional pain, and don't even realize it. We may wonder why we feel so sad or mad; why our relationships never seem to work well; why we're so reactive, negative, critical and cynical; but never connect these things to the unprocessed, unresolved pain in our hearts.
To break free of these patterns we need a kind of inner healing –– a restoration of our soul. Only God can do this. And He wants to do this work in you!
The psalm-writer David understood his need for this in his own life. He also understood that God is a Restorer of broken and bruised souls. In one of his most familiar songs, David said:
The Lord is my shepherd, I shall not be in want. He makes me lie down in green pastures, He leads me beside the quiet waters. He restores my soul. He guides me in paths of righteousness for His name's sake. — Psalm 23:1-3 (NIV)
David understood that the Lord "restores souls." This is great news. This means that we don't have to go through life carrying painful scars with us. God is a healer of broken hearts. He is a restorer of scarred souls. He truly is the Great Physician, and the Great Therapist! He puts broken people back together!
How do we experience this kind of healing? We invite Jesus into our hearts. We allow Him access to our hurt. We ask Him to show us how our past pains are impacting our present. We let His love wash us, His grace forgive us, His Word direct us, and His forgiveness flow through us to others. We refuse to blame and shame others for our issues. We stop justifying our bad attitudes and actions and accept responsibility for them. As we do these things, God restores us –– He makes us whole. And when we're whole, we're better able to love others and serve Him!
Pastor Dale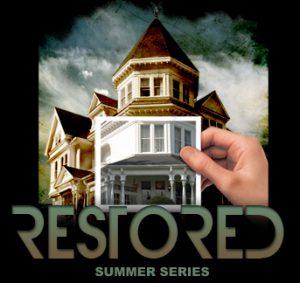 PS: Don't miss this weekend as I begin a new series of weekend messages at Church of the Redeemer titled "Restored!" We"ll see how God makes people whole, and study some incredible examples of people who experienced God as the Great Restorer.
For campus service times, directions and more information visit our website: Gaithersburg, Frederick, Spanish or Church Online.
I look forward to seeing you!
Tweet