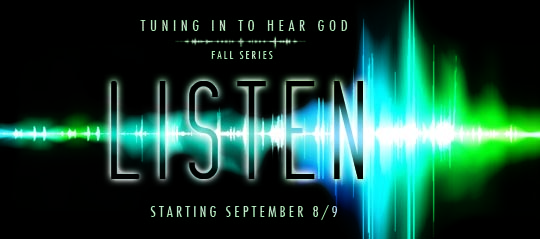 A quick look in the mirror reminds us of an important lesson. When we see one mouth and two ears, we get a clear message from God — listen twice as much as you talk!
Listening is something we all struggle with. Our tendency is the opposite. All too often we talk much more than we listen. And even when we're listening, often times we're not really listening, we're simply waiting for the next opening in the conversation to say what we want to say.
Not only does this tendency affect our personal relationships, it also impacts our relationship with God. Our prayer times are usually focused on telling God what we need or want, with little attention given to listening to His instructions, encouragement or correction.
Listening is something we can learn to do. It's a developed skill that will help us better relate to people, and to God.
This weekend at Church of the Redeemer we're beginning a new series of messages called "Listen!" Over the next few weeks we're going to see what the Bible says about listening to God. We'll learn some life-changing principles and practices that will help us hear God's voice more clearly and accurately. Don't miss it, and invite a friend or family member to be a part too.
For campuses, services time and directions visit the Church of the Redeemer website.
I look forward to seeing you!
Pastor Dale
Tweet