There's a basic life principle: What you hold on to, holds on to you. It works positively and negatively. If you hold on to anger, anger holds on to you. If you hold on to hope, hope holds on to you. And if you hold on to faith, faith will hold on to you! 
Look at what Jesus said about holding on to faith in God: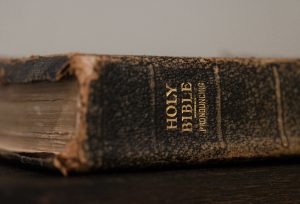 Mark 11:22-25 (NIV) "Have faith in God," Jesus answered. "Truly I tell you, if anyone says to this mountain, 'Go, throw yourself into the sea,' and does not doubt in their heart but believes that what they say will happen, it will be done for them. Therefore I tell you, whatever you ask for in prayer, believe that you have received it, and it will be yours. And when you stand praying, if you hold anything against anyone, forgive them, so that your Father in heaven may forgive you your sins."
Mark 11:22 (Amp) And Jesus, replying, said to them, "Have faith in God [constantly]."
The Greek word Jesus used here for "have" means, "to seize, to possess; to hold on to." It's about making something your own — getting it into your hands and refusing to let it go.
Jesus taught us that faith is something we need to "have." We need to grip it, hold on to it; personally possess it. We should not let it slip away from us.
There are many things that try to wrench and rob faith from us. Fear,  worry, guilt, delays, doubts, and frustrations are a few of these thieves. In the face of such assaults, our responsibility is to constantly and continually hold on to personal faith in God.
Faith is a very real, substantial thing. Faith is not nebulous, it is substantive. It is something we get our "hands on" and hold on to. We hold faith, and then faith holds us!
Jesus taught us to have a very specific kind of faith — faith in God. What is faith in God? The Bible tells us:
Hebrews 11:1 (NLT) Faith is the confidence that what we hope for will actually happen; it gives us assurance about things we cannot see.

Hebrews 11:6 (NLT) And it is impossible to please God without faith. Anyone who wants to come to him must believe that God exists and that he rewards those who sincerely seek him.
Faith in God is something you can have and hold on to. It produces actions. It moves things. It changes how you speak. It changes your outlook about obstacles. It changes the perspective you have of your circumstances and challenges. Faith changes your environment. It transforms the atmosphere and attitudes in and around you!
Get faith in God and hold on to it!
Pastor Dale
Tweet